Ahmad Abu Limon, MD
Endocrinology and Metabolism
Faculty
Lansing / East Lansing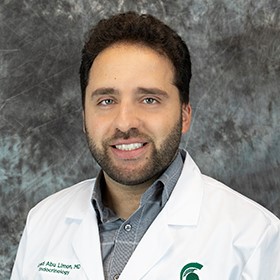 Assistant Professor of Medicine
Clinician at MSU Specialty Center, Endocrinology Clinic
Clinic Address: 4650 South Hagadorn Road Suite 100, East Lansing, MI 48823
Clinic: 517-353-4941
Academic Address: 788 Service Road, B338B, East Lansing, MI 48823
Academic: 517-432-5432
Academic Support Staff:  Kimberly Wright
For clinical appointments and patient-care questions: please contact Endocrinology Clinic at 517-353-4830.
---
BIO
Ahmad M. Abu Limon, MD, Assistant Professor, received his MBBS (MD) degree from Al-Quds University, in Jerusalem in 2012. He completed Internal Medicine residency at Meharry Medical College in 2018, followed by Endocrinology fellowship at the University of Oklahoma Health science center in 2021.

After postgraduate training, Dr. Abu Limon started his endocrine career in 2021 at Michigan State University, Division of Endocrinology. Dr. Abu Limon's Leadership experience includes Vice President of the House Staff Association at Meharry from 2016-2017. He was also President of the Palestinian Medical Student Society from 2011-2013. In addition, he was a Project Coordinator in Scientific Medical Forum from 2008-2010, and he was an active member of the International Federation Medical Student Association from 2007-2010.
---
EDUCATION AND CERTIFICATION

AL-Quds University, College of Medicine; Abu Des, Jerusalem, Palestine 2006-2012
Bachelor of Medical Sciences, Class of 2012

Meharry Medical College, Nashville, TN, USA Internal Medicine residency 2015-2018

University of Oklahoma Health Sciences Center, Oklahoma City, OK, USA
Endocrinology Fellowship 2019-2021


Certification:
     Internal Medicine 
---