Patient Care
The Department of Medicine offers multi-specialty clinics for patients. Our providers have faculty appointments within Michigan State University College of Human Medicine Department. Our commitment to education allows our providers to teach future medical professionals and participate in research.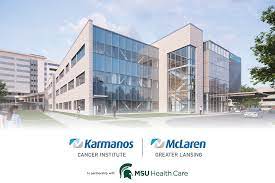 The Karmanos Cancer Institute at McLaren Greater Lansing is a full-service, community-based outpatient cancer care facility, with a reach that extends throughout the U.S. through its participation in clinical trials.  A list our clinical trials is available online.
The MSU Internal Medicine Clinic specializes in primary care for adults 18 years and older, often treating some of the most complex patients.  Housed in the same location to deliver a multidisciplinary approach to patient care is our Specialty Center, which includes the following clinics: Cardiology, Endocrinology, Infectious Disease, and Occupational Medicine.