John Gerlach, PhD, MT(ADCP), D(ABHI)
Immunology
Faculty
Lansing / East Lansing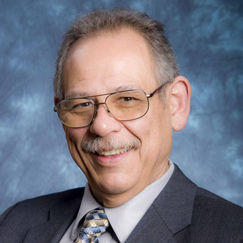 Professor
Director, Biomedical Laboratory Diagnostics Program
Histocompatibility and Immunogenetics Laboratory
Academic Address: 354 Farm Ln, N Kedzie Hall, Room N322
Academic Phone: 517-355-4616 ext. 2
BIO
Dr. Gerlach's degrees have all been conferred by Michigan State University. A Bachelor of Science in Medical Technology, a Master's of Science in Clinical Laboratory Sciences as well as a Ph.D. in Pathology. He is the Program Director for the Biomedical Laboratory Diagnostics Program and teaches undergraduate and graduate courses in pathology, immunohematology, immunodiagnostics and molecular diagnostics. His courses are taught both in the classroom and online. Dr. Gerlach is a diplomate of the American Board of Histocompatibility and Immunogenetics. He is the laboratory director for two laboratories on campus, Tissue Typing and Olin Student Health Center. His research interests cover immunogenetics, transplantation immunology, molecular diagnostics and disease association and resistance. Dr. Gerlach has served on the Accreditation Review Board of the American Society for Histocompatibility and Immunogenetics and served as Society President for 2013-2014.
---
Clinical Laboratory
Dr. Gerlach's Laboratory
Human Lymphocyte Antigen (HLA) Testing
The tissue typing laboratory provides HLA typing for transplantation and HLA compatible platelets in support of the end stage renal and cardiac transplant programs in Grand Rapids, Michigan.  We also serve as a histocompatibility referral laboratory for several Michigan communities that are part of the Michigan State University College of Human Medicine campuses.
We provide molecular Class I and Class II HLA typing (low and high resolution), T and B cell Flow crossmatches, and HLA antibody identification by liquid bead microarray technology. The laboratory is Clinical Laboratory Improvement Act (CLIA) licensed, American Society of Histocompatibility and Immunogenetic (ASHI) accredited, and United Network of Organ Sharing (UNOS) approved and licensed by the Michigan Department of Community Health.
Research
Dr. Gerlach is a member of the Biomedical Laboratory Diagnostics Program faculty, College of Natural Science and also a member of the College of Human Medicine faculty. Research projects revolve around transplant immunology, immunodiagnostics or molecular diagnostics.
Contact
Department of Medicine
B228 Life Sciences Bldg
Michigan State University
East Lansing, MI 48824-1317
Hours: Monday - Friday 0800-1700 EST
Telephone: (517) 355-4616
Fax: (517) 353-5436
E-mail: msuhla@msu.edu
---
EDUCATION AND CERTIFICATION
Doctorate: Ph.D. in Pathology, Michigan State University, East Lansing, Michigan
Graduate: M.S. in Clinical Laboratory Science, Michigan State University, East Lansing, Michigan
Certification:
Diplomat of the American Board of Histocompatibility and Immunogentics: D(ABHI)
Certified Laboratory Sepcialist in Molecular Biology: CLSpMB(NCA)
Medical Technologist, American Society for Clinical Pathology: MT(ASCP)
---
MSU SCHOLARS
---
PUBMED LINK
Gerlach JA[Author]
---