Ved Gossain, MD, FRCP©, MACP, FACE
Endocrinology and Metabolism
Faculty
Lansing / East Lansing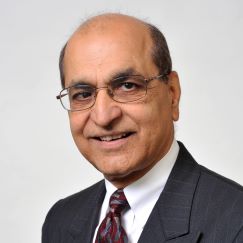 Professor Emeritus
Former Chief, Division of Endocrinology and Metabolism
Clinician at MSU Specialty Center, Endocrinology Clinic
Clinic Address: MSU Medicine Specialty Center, 4650 South Hagadorn Road Suite 100, East Lansing, MI 48823
Clinic: 517-353-4830
Academic Address: 788 Service Road, B214, East Lansing, MI 48823
Academic: 517-432-5432
Academic Support Staff:  Kimberly Wright
For clinical appointments and patient-care questions: please contact Endocrinology Clinic at 517-353-4830
---
BIO
Ved Gossain, MD, FRCP©, MACP, FACE is the emeritus Swartz Professor of Medicine and former Chief of the Division of Endocrinology and Metabolism, at Michigan State University (MSU). He has relinquished his administrative responsibilities, but continues to teach, serving his patients and carrying out research. He served as Chief of the Division of Endocrinology from 1996-2015. He established the Endocrinology Fellowship Program at MSU and served as the program director since its inception in 2006 to 2013. Dr. Gossain has an international reputation in the field of Endocrinology. DR. Gossain has been an active clinical researcher and has published over 80 original papers and several book chapters. He has been elected to Alpha Omega Alpha Honor Society and fellowships of Royal College of Physicians of Canada (FRCP©), American Association of Clinical Endocrinologists, (FACE) and All India Institute of Diabetes. He was awarded Mastership in the American College of Physicians (MACP) in 2014. He has received numerous honors and awards including Presidential Citation (Ingham county 1999), Laureate Award (American College of Physicians Michigan Chapter 2004), Distinguished Faculty Award (College of Human Medicine, MSU 2006), Professor Vishwanathan Oration Award (Research Society for Study of Diabetes in India 2000). Academic Excellence Award (Michigan Association of Physicians of Indian Origin 2009), Distinguished Alumnus Award (Amritsar Medical and Dental Association of North America 2010) He has been listed among the "Best Doctors in America" for the last several years.

Dr. Gossain received his basic medical degree (MBBS) from Medical College Amritsar and subsequently obtained a post-doctoral degree in General Medicine (MD) from All India Institute of Medical Sciences, New Delhi, India. He served an Internal Medicine Residency at the Springfield Hospital Medical Center (now Bay State Medical Center) in Springfield, Massachusetts; an Endocrinology Fellowship at the University of Cincinnati, Ohio; and an additional year of Endocrinology Research Fellowship at the Medical College of Wisconsin in Milwaukee, Wisconsin.
Dr. Gossain's research interests include endocrinology and metabolism, specifically diabetes, obesity, thyroid, and growth hormone disorders.
---
EDUCATION AND CERTIFICATION
Medical School: Medical College of Amritsar, India
Internship: The All India Institute of Medical Sciences, New Delhi, India
Certification:
American Board of Internal Medicine
Endocrinology Diabetes and Metabolism
---
MSU SCHOLARS
MSU Scholars highlights the research activity of Michigan State University, showcasing faculty experts for regional, national, and international research and business communities.
---
PUBMED LINK
Gossain VV[Author]
---