Borys Hrinczenko, MD
Hematology and Oncology
Faculty
Lansing / East Lansing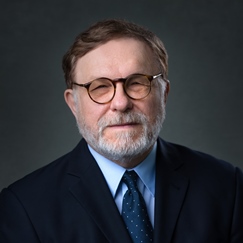 Professor
Director, Hematology and Oncology Fellowship Program
Division of Hematology and Oncology
-
Clinician at Karmanos Cancer Institute at McLaren Greater Lansing
Clinic Address: Karmanos Cancer Institute of McLaren Greater Lansing, 3520 Forest Road, Lansing, MI 48910
Clinic Phone: 517-975-9500
Academic Address: 788 Service Road, B412 Clinical Center
Academic Phone: 517-353-3128
Academic Support Staff: Beth Moore
For clinical appointments and patient-care questions: please contact Karmanos Cancer Institute of McLaren Greater Lansing at (517) 975-9500
---
BIO
My main interest is in new therapies for lung cancer, including the use of immune checkpoint inhibitors, the same treatments for which James P. Allison and Tasuku Honjo were awarded the 2018 Nobel Prize in Medicine. At the Breslin Cancer Center, we have Phase I clinical trials using checkpoint inhibitors to harness the body's immune system against lung cancer. I'm collaborating on other projects with several MSU researchers, including:
Chemistry Professor Greg Swain, who is developing a device to measure nitric oxide and peroxynitrite in exhaled breath to determine if these are biomarkers for lung cancer.
Physiology Professor Eran Andrechek, who discovered in a preclinical model that some lung cancer patients with an overlooked mutation might respond well to treatment with tyrosine kinase inhibitors.
Pharmacology and Toxicology Associate Professor Karen Liby, who is studying rexinoid drugs for potentially treating lung cancer patients who have the KRAS mutation.
Bryan R. Smith, an associate professor of biomedical engineering, who is interested in using nanotechnology to reverse immunosuppression in lung cancer.
These are just a few examples of how we at MSU are collaborating across many disciplines to fight this devastating disease.

---
EDUCATION AND CERTIFICATION
Medical School: SUNY Downstate, Brooklyn, New York
Residency: Mayo Graduate School of Medicine, Rochester, Minnesota
Fellowship: Clinical-National Institutes of Health, NHLBI, Hematology Branch, Bethesda, Maryland
Fellowship: Research-National Institutes of Health, NIDDK, Laboratory of Chemical Biology, Bethesda, Maryland

Certification:
American Board of Internal Medicine

Hematology Subspecialty

Oncology Subspecialty
---
MSU SCHOLARS
---
PUBMED LINK
Hrinczenko B[Author]
---