Daniel Isaac, MS, DO
Hematology and Oncology
Faculty
Lansing / East Lansing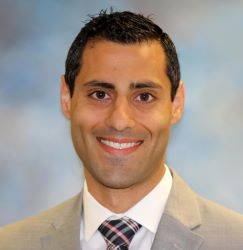 Division of Hematology and Oncology
-
Clinician at Karmanos Cancer Institute at McLaren Greater Lansing
Clinic Address: Karmanos Cancer Institute of McLaren Greater Lansing, 3520 Forest Road, Lansing, MI 48910
Clinic Phone: 517-975-9500
Academic Address: 788 Service Road, B429 Clinical Center
Academic Phone: 517-353-3128
Academic Support Staff: Beth Moore
For clinical appointments and patient-care questions: please contact Karmanos Cancer Institute at McLaren Greater Lansing at (517) 975-9500
---
BIO
Daniel Isaac, MS, DO, completed his Bachelor's of Science and Master's of Science in mechanical engineering at Michigan State University. He then went on to attend the Edward Via College of Osteopathic Medicine at Virginia Tech in Blacksburg, VA.  He has received numerous honors and awards, including the Medical Student of the Year Award at Edward Via Virginia College of Osteopathic Medicine in 2012 and National Medical Student Abstract Competition Winner from the American College of Physicians in 2013. 
Dr. Isaac completed his residency training in internal medicine at William Beaumont Hospital in Royal Oak. After completion, he returned to East Lansing to join the Hematology/Oncology Fellowship Program at Michigan State University. He was the chief fellow at MSU and will complete his fellowship in 2019. Dr. Isaac joined the department in August 2019.
Isaac has completed research at Michigan State University on the translational effects of TCH-165 and derivatives on relapsed multiple myeloma as well as research on immune microenvironment modulation in prostate cancer. His clinical interests will focus on genitourinary cancers.  He joined the Michigan Society of Hematology and Oncoloty (MSHO) Board as a second year fellow member in 2018. He will serve on the board through September, 2019.
Dr. Isaac joins the MSU HealthTeam multispecialty group as a MSU Breslin Cancer Center physician.  Read more.
---
EDUCATION AND CERTIFICATION
Medical School: Edward Via College of Osteopathic Medicine, Virginia Tech, Blacksburg, VA
Residency: Internal Medicine, William Beaumont Hospital, Royal Oak, MI
Fellowship: Hematology/Oncology Fellowship Program, Michigan State University, East Lansing, MI
Certifications:
American Board of Internal Medicine
American Board of Hematology
American Board of Medical Oncology
---
PUBMED LINK
https://www.ncbi.nlm.nih.gov/pubmed/29402697
---