Shuangtao Ma, MD, MSc
Nanomedicine and Molecular Intervention
Faculty
Lansing / East Lansing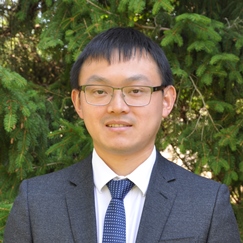 Nanomedicine and Molecular Intervention
Academic Address: 1355 Bogue St, B226B Life Sciences East Lansing, MI 48824
Academic Phone: 517-353-4677
Academic Support Staff: Kimberly Wright
---
BIO
Shuangtao Ma, MD, MSc, joined the Department of Medicine as an Assistant Professor in 2017. Dr. Ma obtained his medical degree and completed residency training in China, and thereafter resigned clinical work and has dedicated himself wholeheartedly to cardiovascular research. Dr. Ma received postdoctoral research training in vascular biology and hypertension at Mayo Clinic, Houston Methodist, and the University of Texas Health Science Center at Houston under the support of American Heart Association Postdoctoral Fellowship. 

Dr. Ma's research interests involve the development of a comprehensive understanding of mechanisms and new therapeutics for cardiovascular disorders, including hypertension, vascular remodeling, and atherosclerosis.  He has been experienced in identifying the novel regulators in cardiovascular disease by manipulating genes and using physiologic and pharmacologic strategies in various research models. Currently, He is investigating the roles of transient potential channels in the regulation of blood pressure and kidney injury by using genetically modified models. He is also evaluating the effects of the ablation of renal afferent and efferent nerves on the cardiovascular physiology and pathophysiology. 

Another research interest is to identify the regulators in the phenotypic switch of vascular smooth muscle cells and the development of neointima hyperplasia and neoatherosclerosis. By using transcriptome array, he obtained several candidate genes and noncoding RNAs and now is continuing on the in vitro and in vivo functional studies. 
---
EDUCATION AND CERTIFICATION
Graduate School: Third Military Medical University,  M.Sc., Cardiovascular Medicine Chongqing, China 
Medical School: Third Military Medical University, Clinical Medicine, Chongqing, China 
Residency: Resident,Chengdu Military General Hospital, Department of Cardiology, Chengdu, Sichuan, China 
Fellowship:
 Research Fellow, Mayo Clinic, Division of Nephrology and Hypertension, Rochester, Minnesota 
---
MSU SCHOLARS
MSU Scholars highlights the research activity of Michigan State University, showcasing faculty experts for regional, national, and international research and business communities.
---
PUBMED LINK
Ma S[Author]
---