Barbara Pawlaczyk, MD, FACP
Non-Prefix Faculty
Flint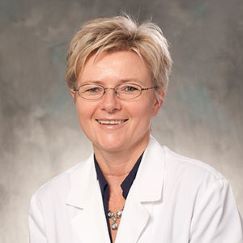 Assistant Professor
Program Director, Internal Medicine Residency Program
Genesys Downtown Flint Health Center
420 Saginaw St
Flint , MI 48502
810-232-3522
BIO
Additional information for Dr. Pawlaczyk is on the Ascension Healthcare web site or Graduate Medical Education site.
Our IM program which has been accredited since 1975. Two years ago, we were granted Initial Accreditation by the ACGME without any reservation. We became fully accredited by the ACGME in January of 2019. We also have been granted an Initial Accreditation in Osteopathic Recognition. This will allow us to provide our trainees ample opportunities to become well prepared, successful Internists thriving in the continuously changing world of Health Care.
I joined Genesys in 2011 and have been impressed with the high degree of collegiality among our residents from my first day. Here you can see the true meaning of the word 'team'. Our residents treat each other as they would a family member. They anticipate each other's needs and frequently offer help. Here they develop friendships that last beyond the training program. The faculty enjoy teaching learners of all levels, and are also "part of the family."

I have been enjoying teaching and training medical students and residents since 1999. I understand the hardships and high demands that medical schools and training programs require from each and every one of you. My goal is to make sure that you learn the most in the least stressful environment; that you experience (what you always hear about but not always see) well balanced training in Internal Medicine. I treat every resident as my family member, deeply care and help each one of you to succeed to become an exemplary physician.
---
EDUCATION AND CERTIFICATION
Medical School: Pomeranian Medical University - Poland
Residency: Mclaren Regional Medical Center

Certification:
Internal Medicine
---