Mukta Sharma, MD, FACP
General Internal Medicine
Faculty
Lansing / East Lansing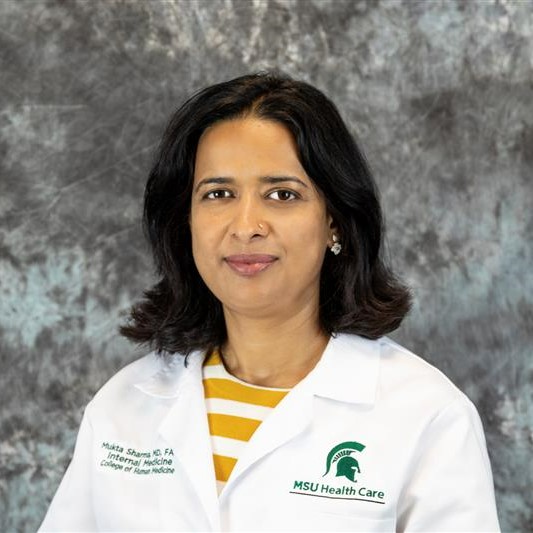 Division of General Internal Medicine
-
Clinician at MSU Medicine Specialty Center, Internal Medicine Clinic
Clinic Address: 4650 South Hagadorn Road Suite 100, East Lansing, MI 48823
Clinic: 517-353-4941
Academic Address: 788 Service Road, B333, East Lansing, MI 48823
Academic: 517-353-3730
Academic Support Staff: Jinie Shirey
For clinical appointments and patient-care questions: please contact Internal Medicine Clinic at 517-353-4941
---
BIO
Mukta Sharma MD, I completed residency in Internal Medicine from Cleveland Clinic in 2013. I worked as a Clinical Associate, Hospital Medicine, Cleveland Clinic till Dec 2015. I have been working as an assistant professor of Medicine, Division of Internal Medicine, Michigan State University since Jan 2016.

I completed Biopsychosocial Medicine Fellowship under Dr Robert Smith and I have been involved in research focused on psychosocial aspect of medicine. Recently, I coauthored a peer review article related to training medical faculty to teach mental health care. Also, I train internal medicine residents the psychosocial techniques in patient care. I am co-investigator in few research grants, been involved in scholarly activities with internal medicine residents (presented posters and published articles in peer reviewed journals). I have been a key faculty member since 2017 in Internal Medicine Residency Program.
---
EDUCATION AND CERTIFICATION
Medical School: Lady Hardinge Medical College, Delhi-110007 India
Residency: Cleveland Clinic Education Foundation and Huron Road Hospital, Cleveland, OH
---
MSU SCHOLARS
Faculty Profile Link
MSU Scholars highlights the research activity of Michigan State University, showcasing faculty experts for regional, national, and international research and business communities.
---
PUBMED LINK
Sharma M[Author]
---