Perricone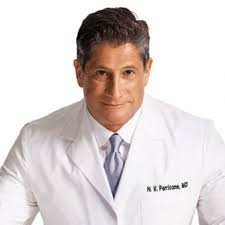 Nicholas V. Perricone, M.D., graduated from Michigan State University College of Human Medicine in 1982 and completed his residency in dermatology at Henry Ford Hospital in Detroit. He is a board-certified dermatologist and has served as clinical professor of dermatology at the College of Human Medicine and as assistant clinical professor at Yale School of Medicine.
>He began his research on how skin inflammation caused by factors such as age, sun exposure and the environment could be treated by a diet rich in antioxidants, vitamins and anti-inflammatory creams.
In 2002, Dr. Perricone announced a gift commitment to Michigan State University College of Human Medicine to establish the Nicholas V. Perricone, M.D., Division of Dermatology, opening formally in 2006.
Dr. Perricone has become a renowned authority on healthy aging and award winning inventor, educator and philanthropist. He was creator and host of a series of Public Television Specials and the author of several New York Times Best Sellers including The Wrinkle Cure, The Perricone Prescription, The Perricone Promise and Forever Young.
He is certified by the American Board of Dermatology and holds Fellowships at the New York Academy of Sciences, the American College of Nutrition and the American Academy of Dermatology.