Nicholas V. Perricone, M.D., Division of Dermatology
Established in 2002, the Nicholas V. Perricone, M.D., Division of Dermatology is building and promoting a dermatology division through the establishment of integrated scientific, clinical, educational, and community outreach programs rooted in academic excellence and humanistic values. This research-focused division is within the Department of Medicine, College of Human Medicine and is supported by the Nicholas V. Perricone, M.D., Endowment. Dr. Perricone is an alumnus of the College of Human Medicine.
Faculty:
Richard Neubig, M.D., Ph.D. Interim Chief, Nicholas V. Perricone, M.D., Division of Dermatology and Professor and Chair of Pharmacology and Toxicology Department. Dr. Neubig's vision for the unit is supporting clinical translation research to skin conditions. Neubig's lab has identified a gene called RhoC that causes a melanoma tumor to invade and spread to other parts of the body. His team has also identified several compounds – or potential new medications – that can possibly block this process and prevent the spread of aggressive melanomas. (more at MSUToday)

Figure reprinted from Haak AJ, Appleton KM, Lisabeth EM, Misek SA, Ji Y, Wade SM, Bell JL, Rockwell CE, Airik M, Krook MA, Larsen SD, Verhaegen M, Lawlor ER, Neubig RR. Pharmacological Inhibition of Myocardin-related Transcription Factor Pathway Blocks Lung Metastases of RhoC-Overexpressing Melanoma. Mol Cancer Ther. 2017Jan;16(1):193-204. doi: 10.1158/1535-7163.MCT-16-0482. Epub 2016 Nov 11. PubMedPMID: 27837031; PubMed Central PMCID: PMC5555736
     Dr. Neubig's research on scleroderma, which is an autoimmune disease that causes hardening of skin tissue as well as organs, found that the same mechanisms that produce fibrosis, or skin thickening, in scleroderma also contribute to the spread of cancer. (more at MSUToday)

     Dr. Neubig also received a Gran Fondo* grant to continue his study of a combination of drugs that could prevent melanoma from metastasizing. The anti-cancer drug Trametinib is given to treat a common form of melanoma, but the cancer typically becomes resistant to that treatment. (more at MSUToday)

Jamie Bernard, Ph.D, Assistant Professor, Nicholas V. Perricone, M.D., Division of Dermatology and also Assistant Professor, Pharmacology and Toxicology Department. Dr. Bernard studies the mechanisms that underlie the onset of carcinogenesis, to find new targets for prevention. She recently showed in the prestigious journal Oncogene that a growth factor called FGF2 is released from fat and promotes cancer. This new biomarker of adiposity-associated cancer risk will help in both identification of high risk individuals and will permit the identification of new drugs for chemoprevention of skin and other cancers. (more at MSUToday)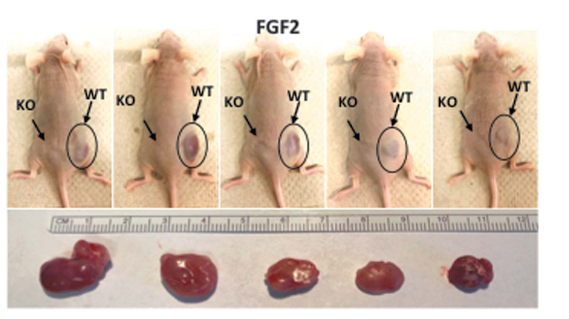 Figure reprinted from Chakraborty D, Benham V, Bullard B, Kearney T, Hsia HC, Gibbon D, Demireva EY, Lunt SY, Bernard JJ. Fibroblast growth factor receptor is a mechanistic link between visceral adiposity and cancer. Oncogene. 2017 Nov 30;36 (48):6668-6679. doi: 10.1038/onc.2017.278. Epub 2017 Aug 7. PubMed PMID: 28783178; PubMed Central PMCID: PMC5709202.

      In a study backed by a Gran Fondo* grant, Dr. Bernard, is looking how obesity sensitizes skin cells to DNA damaging events. She is also exploring the efficacy of natural compounds for the prevention of basal and squamous cell skin cancer.

Jeffrey Messenger, M.D. Assistant Professor, Nicholas V. Perricone, M.D., Division of Dermatology. Dr. Messenger received his M.D. at The Ohio State University College of Medicine and undertook his Dermatology Residency at the University of Michgan where he was Chief Resident from 2015-2016. He has an active clinical practice at Messenger Dermatology, PLLC, Lansing, MI. He also teaches in the MSU CHM Dermatology Intersession and oversees CHM student clinical and translational research projects in collaboration with other faculty in the Dermatology Division.
*Additional funding for the division is provided by the College of Human Medicine's Gran Fondo. Italian for "Big Ride," Gran Fondo is a long-distance, mass participation event geared toward cyclists of all abilities. The MSU Gran Fondo starts and ends in downtown Grand Rapids and offers multiple lengths through West Michigan. Their primary goal is to raise funds to support skin cancer awareness, prevention and research.
Sangbum Park,
PhD, Assistant Professor. Dr. Park received his B.S. in Animal Biotechnology and his Ph.D. in Stem Cell Biology at Seoul National University. He then completed his Postdoctoral fellowship and became an Associate Research Scientist at Yale University. In the Park lab, our long-term goal is to discover fundamental principles that underlie skin regeneration in a live animal. To achieve this goal, we utilize in vivo imaging with multiphoton laser microscopy and genetic mouse models to visualize and manipulate specific cell types within the skin of live mice. Our research is highly innovative because of our unique ability to study mammalian skin cells in a live unperturbed animal allow us to answer questions in biology that have been out of reach due to technical limitations. The research we are proposing will not only provide unprecedented insight into the cell biology and molecular mechanisms of tissue regeneration, but will also shed light on disease pathology and potential treatment strategies.
Learn more here:
Park Lab 
Read the latest news about skin cancer research at Michigan State University College of Human Medicine:

•Dr. Richard Neubig is featured in MSU's Great State Day Trips video for the Gran Fondo
•MSU Gran Fondo funds promising skin cancer studies
•Promising new drug stops spread of melanoma by 90 precent
•Keeping skin cancer at bay
•Cyclists fight skin cancer at sixth annual MSU Gran Fondo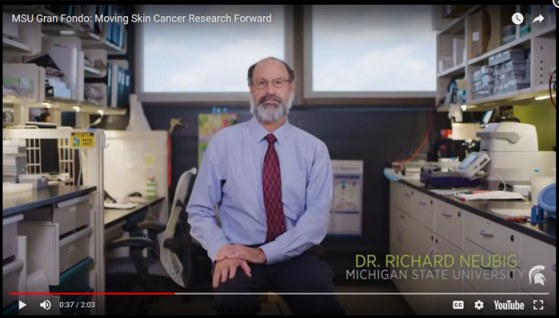 Selected publications from the division include:
Misek SA, Appleton KM, Dexheimer TS, Lisabeth EM, Lo R, Larsen SD, Gallo K, Neubig RR. BioRxiv PREPRINT - Rho-mediated MRTF and YAP1 activation contributes to BRAF inhibitor resistance in Sox9High/Sox10Low melanoma cells. doi: https://doi.org/10.1101/381806

Chakraborty D, Benham V, Bernard JJ. Elucidating the role of adipose tissue secreted factors in malignant transformation. Adipocyte. 2018 Jan 2;7(1):45-48. doi: 10.1080/21623945.2017.1388971. PMID: 29095087

Chakraborty D, Benham V, Bullard B, Kearney T, Hsia HC, Gibbon D, Demireva EY, Lunt SY, Bernard JJ. Fibroblast growth factor receptor is a mechanistic link between visceral adiposity and cancer. Oncogene. 2017 Nov 30;36(48):6668-6679. doi: 10.1038/onc.2017.278. PMID: 28783178

Haak AJ, Appleton KM, Lisabeth EM, Misek SA, Ji Y, Wade SM, Bell JL, Rockwell CE, Airik M, Krook MA, Larsen SD, Verhaegen M, Lawlor ER, Neubig RR. Pharmacological Inhibition of Myocardin-related Transcription Factor Pathway Blocks Lung Metastases of RhoC-Overexpressing Melanoma. Mol Cancer Ther. 2017 Jan;16(1):193-204. doi: 10.1158/1535-7163.MCT-16-0482. PMID: 27837031

Nickoloff BJ, Vande Woude G: Hepatocyte Growth Factor in the neighborhood reverses resistance to BRAF inhibitor in melanoma. J Pigment Cell and Melanoma Research,25: 758-761, 2012.


Academic Contact Information:
Division Assistant: Jinie Shirey
Phone: 517-353-3730
Email: shireyj@msu.edu