Division of Endocrinology and Metabolism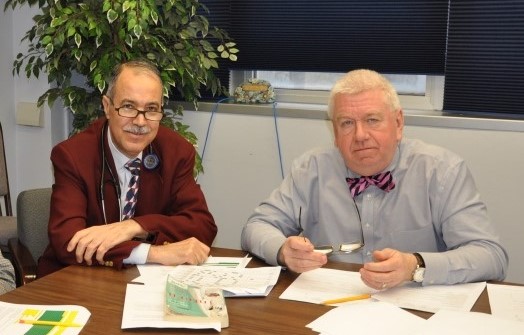 The Division of Endocrinology and Metabolism was established within the MSU CHM Department of Medicine in 1971; Dr David Rovner serving as the Chief for Endocrinology. In the Division, our mission is to educate, train and inspire learners, advance knowledge, and provides high quality, compassionate, cost conscious care to patients and their families. The clinicians in the Endocrinology Clinic of Medicine Subspecialties treat adults with endocrine, diabetes and metabolism disorders.
The Division offers a two year fellowship in Endocrinology, Diabetes & Metabolism which is fully accredited by ACGME (Accreditation Council for Graduate Medical Education). The fellowship is a partnership between Michigan State University and E.W. Sparrow Hospital. Fellows receive instruction from MSU based faculty and clinical faculty in our community. The Division also provides teaching in the area of endocrinology and metabolism to medical students, residents, and allied health professionals. Faculty members teach in lecture format, small group learning sessions, and in one-on-one teaching sessions. Medical students may take Endocrinology as an elective rotation. During this rotation, they spend four weeks with the faculty members in the inpatient and outpatient settings.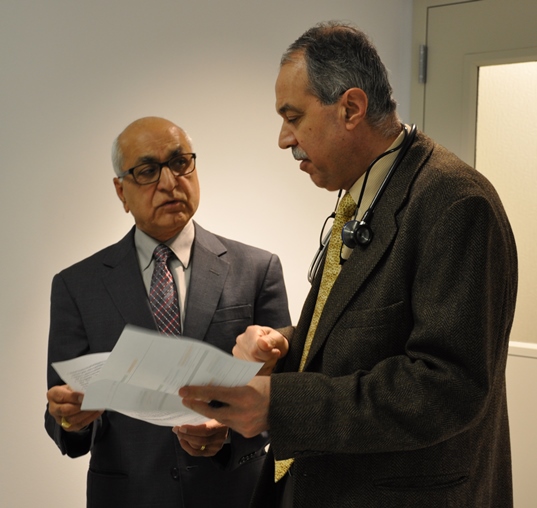 Faculty and Staff:
Saleh Aldasouqi MD, FACE, ECNU, received his MBBS (MD) degree from Jordan University School of Medicine in 1984. He completed Internal Medicine residency at Hurley Medical Center (Co-Chief Resident) in Flint, MI (MSU), followed by Endocrinology fellowship (Chief Fellow) at Indiana University in Indianapolis, IN. more...
Ved Gossain, MD, FRCP (c), MACP, FACE is the emeritus (active) Swartz Professor of Medicine and former Chief of the Division of Endocrinology and Metabolism, at Michigan State University (MSU). He continues to teach, serving his patients and carrying out research. He served as Chief of the Division of Endocrinology from 1996-2015. more...

G. Matthew Hebdon, MD, PhD received his M.D. from the University of North Carolina at Chapel Hill and completed Residencies in Internal Medicine and Pediatrics and Fellowships in Adult and Pediatric Endocrinology Nutrition and Metabolism at the University of Michigan. He is the Program Director for the Endocrinology, Diabetes, and Metabolism Fellowship at MSU. more...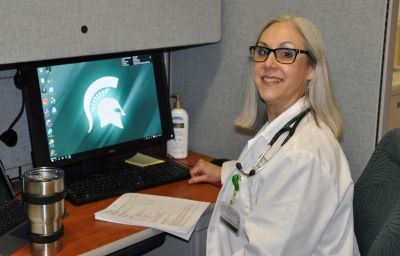 Cheryl G. Mills FNP-BC, MSN, BSN received her Master's degree from Michigan State University College of Nursing in 1999 and is Board Certified as a Family Nurse Practitioner. She is well rounded and has worked in Internal Medicine, Family Practice, Gastroenterology/Hepatology, Hospice/Palliative Care Home Health, and most recently Endocrinology.
more...
The Division conducts clinical research and participates in basic research in collaboration with basic science faculty. An example is the Global Hypopituitary Control and Complications Study (HypoCCS) which is part of an international collaboration project to evaluate the effects of growth hormone replacement in growth hormone deficient adults. Other studies include an evaluation of a Shared Decision Making model to improve the care of diabetes and a study to evaluate the utility of MRI in the early detection of diabetic microangiopathy. A recently funded study investigated the prevalence of diabetes/cardiovascular risk factors and the effectiveness of risk factor modification among UAW-GM employees. Other important projects deal with the use of glycosylated hemoglobin in gestational diabetes, the effectiveness of insulin pumps in community settings, fatty acid profiles in diabetics, and the natural history of subclinical hyperthyroidism with and without treatment. The outcome of the studies outlined above will advance knowledge, and depending on the results, may result in improved treatment of patients affected by the endocrine disorders.
Clinic Contact Information:
Phone: (517) 353-4830
Fax: (517) 355-2134
4650 South Hagadorn Suite 100
East Lansing, MI 48823
Academic Contact Information:
Division Assistant, Kimberly Wright
Phone: (517) 432-5432